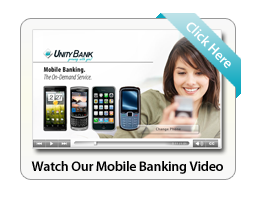 Manage your money with Mobile Banking!
You can now monitor your accounts using your mobile phone – view account balances & transaction histories, receive alerts, and even transfer funds whenever you need to!
Download our FREE Mobile APP on any Apple or Android Phone
Mobile Browser or Text Messaging Also Available
Available to any personal banking customer enrolled in Online Banking
View our online demo today for more info!
View Supported Mobile Devices for Our Mobile Banking APP
Still need help?
Call us at 800.618.BANK(2265)
Customer Service Center, Monday - Wednesday: 8 am - 5:30 pm, Thursday - Friday: 8 am - 6 pm